Leonard_Snart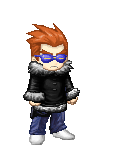 Last Login: 12/19/2013 8:37 pm
Registered: 09/17/2006
Gender: Male
Location: Keystone City, Missouri
Interests
Favorite Movies/Anime
Favorite TV Shows
Favorite Music/Bands
Hobbies/Interests
About
Call me Mr. Freeze, I dare you. I am Captain Cold, the driving force behind The Rogues. We get a bad rep, but I'd take us over those crazies in Gotham, or those clowns in Star City ANY day. We fight a man who runs near light speed, they fight a guy who clearly has mental issues or an archer. Yeah, an archer. Who would you rather fight? Thought so. We're collected and know how to act and how to fight TOGETHER. Something The Batman or Green Arrow never has to deal with with their enemies. The clods would be overrun so fast it wouldn't be funny. But this is supposed to be about me, all me. I love women and money, pretty simple right? Above all else though, I will top (no pun intended) the Flash.

Uh, about me actually? Well it's pretty obvious I love Pittsburgh and her sports teams, to death infact. Everything else is pretty much listed I guess, gimme a shout? Sure.
Signature


Rose City 'Til I Die!