This is one of my three outfits.
I only wear it when questing with my Hunter friend, Taranaur, as I will not need dark outfits when being with another.

This is my friend and traveling partner
Taranaur
.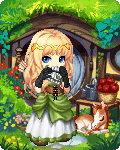 We fight side-by-side, wearing the same outfits. She does things with a bow, while I use my tricks to distract the enemy creatures.