ladyranozenth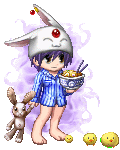 Last Login: 07/26/2010 11:09 pm
Registered: 10/02/2005
Gender: Female
Location: in a comfy chair in front of the monitor maybe
Equipped List
Interests
Hobbies/Interests
Forums
Posts per Day: 0.12
Total Posts: 473
Comics
It's easy to look at the pages and admire a comic's art style. But once you finally settle in and start reading it, you'll find the real glue keeping it all together is the story's emotional journey. The initial draw should be good art, and good art can say a lot more than the script, but it's the writing that convinces you to keep reading.
Sadness
In order to put things that are wider, I have to give up and cover up my pretty little boy's face. Oh, sadness.

I guess though, if you want to see it, that you can look to the right, so I get the feeling that I'll change things around again and move things to the middle, for the sake of awesome.
Background
Yeah, the background pic is an old pic I did for the Gaiamazine.
I randomly decided to put it on here, as the Gaiamazine seems to be inactive as of late, and since the default stuff on my profile page was lame.