LadyDerethia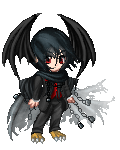 Details
Last Login

03/16/2014 4:24 am

Member Since

09/07/2008
Location

Library

Occupation

Dreamer

Gender

Female

Birthday

02/06
---
Interests
Favorite Movies/Anime
Favorite TV Shows
Favorite Reads
Favorite Music/Bands
Hobbies/Interests
About

I love to tektek:
Dhaos
Sanaki
Leonardo
Rafiel(?)
Hibari
Tadase
Crazy, Carzy Rainbow Star!
Random fact time:
LadyDerethia can build a snowman out of rain.
Ghosts are actually caused by LadyDerethia killing people faster than Death can process them.
LadyDerethia cannot predict the future; the future just better do what LadyDerethia says.
When LadyDerethia talks, everybody listens. And dies.
LadyDerethia can slam revolving doors.
LadyDerethia doesnt wear a watch, She decides what time it is.
If you spell LadyDerethia wrong on Google it doesn't say, "Did you mean LadyDerethia?" It simply replies, "Run while you still have the chance."
The only time LadyDerethia was wrong was when she thought she had made a mistake.
LadyDerethia can cook minute rice in 30 seconds.
Most people fear the Reaper. LadyDerethia considers him "a promising Rookie".
There is no Control button on LadyDerethia's computer. LadyDerethia is always in control.
A picture is worth a thousand words. A LadyDerethia is worth 1 billion words.
James Cameron wanted LadyDerethia to play the Terminator. However, upon reflection, he realized that would have turned his movie into a documentary, so he went with Arnold Schwarzenegger.
Aliens DO indeed exist. They just know better than to visit a planet that LadyDerethia is on.
Most boots are made for walkin'. LadyDerethia's boots ain't that merciful.
LadyDerethia doesn't read books. She stares them down until she gets the information she wants.
Wanna try for yourself? Go here: http://blog.esaba.com/projects/facts/index.php
Friends
Viewing 12 of 32 friends
Journal
LoZ Fanfic: The Legend of Triforce
Multimedia