LadyDemoness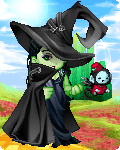 Last Login: 11/06/2016 6:06 pm
Registered: 03/16/2006
Gender: Female
Location: In a dark fortress, glaring at a grand castle...
Equipped List
Interest Tags
Favorite Movies/Anime
Favorite TV Shows
Favorite Reads
Favorite Music/Bands
Hobbies/Interests
Wish List
About
Salutations. I am LadyDemoness. I like reading manga and watching anime but currently have been playing video games more like Ark Survival Evolved and Pokémon (X, Y, ORAS whichever I feel like at the moment). Pokémon is like a two bladed sword to me, I love playing it but I tend to spend too much time (a bit more money than I usually would on a game) on it.
Journal
The Journal Of the LadyDemoness
When my mortal body ceases to exist, some brave (or foolish), lucky (or unlucky) soul will find this Journal of my life.
Signature
Y
IGN: Drew
FC: 2981-7685-6397
Normal Safari with Eevee, Aipom, and Loudred
AS
IGN: Shu
FC: 1092-2210-2138
Psychic Safari with Drowzee and Espurr