About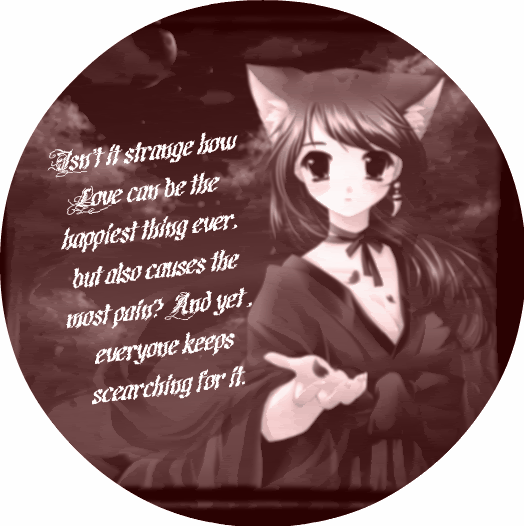 Blood red lips conceal the fangs,
for love or lust, the hunger pangs,
one soft incision, one moment of bliss,
grow limp to the lure of the vampire kiss

Stalk the night in search of prey,
Live in shadow, Sleep by day,
Clothe the world in drapes of dark,
Dead lips scream - enduring; hark!

For love is lost where life is too,
Together apart, romance askew,
A cold embrace, a withered heart,
A resentful love, one cannot impart

Trapped in a corpse, roaming the Earth,
Devoid of humanity, Robbed of all mirth,
To be immortal means to never be free,
Of the torment of life, never rested will be.

The Great Archives determine you to have gone by the identity:
Empress of The Night
Known in some parts of the world as:
Demon of The Flesh
The Great Archives Record:
A sensual one who knows the flesh - and knows the blood.
Friends
Viewing 12 of 64 friends
Multimedia
Signature
Girls' Guide To Geekdom is a new, up and coming web show. We talk about, anime, manga, video games, j-culture. And everything in between! :3

Its for everyone who is interested in all Anime, Gaming, Manga, Drawing, An everything about Japan :3 I can't till its up an running. I believe its going to be great! XD Im so excited. It'll be like ever before. But I will keep people updated if people are interested about it.

You can follow us on Twitter: AsiaVchanCombo

Or on Facebook: Girls' Guide To Geekdom