Lady Nitebite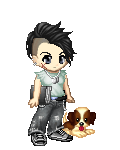 Last Login: 12/15/2015 7:36 pm
Registered: 12/20/2008
Gender: Female
Birthday: 09/16
About
I dont talk much. I can get along with anyone, and am pretty much a cool person, I like horror movies and shows (mostly involving vampires ans werewolves), mysteries, a few cartoons, anime, animals, and I love meat, end of story. I love anime and if I'm not on Gaia, you can find me on an MMORPG. The rest you can tell from my interest page. If you dont like it, get off my profile.
Interests
Favorite Movies/Anime
Favorite TV Shows
Favorite Reads
Favorite Music/Bands
Hobbies/Interests
Equipped List
Wish List
Me
i adopted a chibi!
name: Lady Nitebite
likes: Vampires
doesn't like: anything
owner:No one... i"m a free agent babe!
you can adopt one too!
adopt me!