Lady Laserina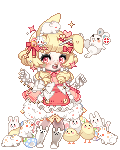 Details
Gender

Female

Birthday

09/25
---
Interests
Favorite Movies/Anime
Favorite TV Shows
Favorite Reads
Favorite Music/Bands
About
Hello Guest

My Name is Jess and i'm 22 years old

If you like, check out my
Quest thread, Art Shop,
Art Collection,& my Deviant art
maybe watch me on my Deviant art

!





Notes about me

:
•I love glass bottles and pretty rocks.
•I like random PMs and Comments.
•I love drawing and would give put free chibis to nice people.
•I listen more then speaking.
•I am single (Putting this here because people keep asking)
•I like Witches & Wiccans
•I am a proud Celtic.
•I like drawing, gaming, & RPing
•I have pale skin, Ginger hair and freckles.(There is a pic of me in my DA)

•

I Like playing Kindred and I will love you if you give me your unwanted Kindred items

!

Feel free to ask me anything

!




LINKS:


•Deviant art

!


•Art Collection

!


•Quest Thread

!


•Art Shop

!
*Profile made by Lady Laserina*
*Art found on Zerochan.net*
*Icons by Noir Nebula
Journal
Lady's Journal
I do not use my journal much, but I do plan on starting to use it. (Will update)
Signature