Lady Laserina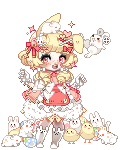 Details
Gender

Female

Birthday

09/25
---
Interests
Favorite Movies/Anime
Favorite TV Shows
Favorite Reads
Favorite Music/Bands
About
Hello Guest

My Name is Jess & welcome to my profile.
Please Enjoy your time here~

If you like,
please visit my Deviant Art if you like to see my art. Feel free to follow me on my Deviant Art. ! Visit my Quest Thread to see what items I am questing for. ! Visit my Art Shop if you would like to buy my art. I do chibi and anime style.!And visit my Art Collection thread if you like to see all the art I have collected over the years, but please do not post inside.!

CURRENT QUEST:

X
X
LINKS:
•Deviant ~ art !
•Art ~ Collection !
•Quest ~ Thread !
•Art ~ Shop !



Notes about me:
•I love glass bottles and pretty rocks.
•I like random PMs and Comments.
•I love drawing and would give out free chibis to nice people.
•I listen more then speaking.
•I am a HUGE Studio Ghibli fan
•I like Witches & Wiccans
•I am a proud Celtic.
•I like drawing, gaming, & RPing
•I switch back and forth between Paw & Human a lot
•I have pale skin, Ginger hair and freckles.
I Like playing Kindred and I will love you if you give me your unwanted Kindred items.
Forever Questing Ally & Skill Potions:
The 4 icons above are Clickable
Dream Avis (See quest thread for details)
Winter Dream avi
Witch Dream avi
Feel free to ask me anything !
*Profile made by: Lady Laserina*
*Art found on: Zerochan.net*
*Icons by: Noir Nebula*
Do you like my Profile?
()
Xl
()
⋟(⊙ ⋏ ⊙)⋞
(
x
∪
xx
∪
x
)
︵
XX
︵
P.S. Enjoy my Symbol bunny I made
.
Journal
Lady's Journal
Just a bunch of stuff I like and stuff I want to keep track of.
Signature
Smile ~

Questing : Crystalline Star

Deviant Art ll Quest Thread

← Art By: Marble eyes



I switch between paw and human.



♥