About
L Lawliet, voiced by Kappei Yamaguchi (J), Alessandro Juliani (E), and acted out in real life by the hot and sexy Ken'ichi Matsuyama! L is forever love and a number one seller in my heart.

L: Change the WorLd

is an awesome movie that I would recommend to anybody especially L fans. Light fans may like it because of the story line, but seeing Ken'ichi for 90 minutes was all I needed to see it! [L ran like a normal person!] Anyways, cheers to one of the greatest characters in anime/manga!
Light: It looks like you won't be satisfied unless I am Kira!
L: Not satisfied unless you're Kira...? Yes...that may be true...I have just realized something, I wanted Light-kun to be Kira.
Friends
Viewing 12 of 20 friends
Signature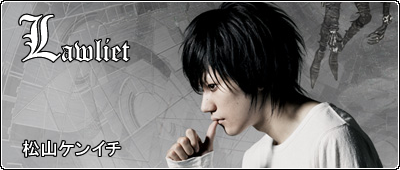 With a dash of Envy. Need I say more?
I will pay someone to draw my avi with L and/or Envy. If it rocks, I tip!