Kyouu Doru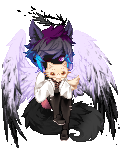 Registered: 01/01/2009
Birthday: 09/22
About the Lady. <3
My name's Heather, though most of my online friends call me Kyouu or Doru. I'm eighteen years old, a first-year college student.

First, let me begin by saying that if you are an arrogant, egocentric a*****e, then kindly get off of my profile. I've put up with enough bullshit from those types of people. Thank you.

I live in Maine, hot in summer and freezing in winter, my kind of place, minus the cold part...

I enjoy singing, listening to music, drawing, writing, nature and being with my friends. I have a love for animals, cats being my favorite. I aspire to become some sort of psychologist when I get older.

I am a plain person on the outside, but most have told me I am quite interesting once they got to know me. I don't hang around on gaia very much anymore, but if I were to become good friends with you, I would give the extra effort to make sure that we keep in touch, so fret not.

Sexual orientation; Pansexual
Relationship status; In love
Zodiac sign; Virgo
Religious view; Interested in Wicca, though I do not feel I belong to anything specifically.
INFJ.

I dislike when people type without using proper grammar (as if we are not lazy enough), and don't like rude, ungrateful people. I don't like being asked for donations. If I feel generous and I know you are questing and are dedicated to the quest, you might receive some gold.

I coded my own profile, and it is relatively simple. I like it that way. (Wix is incredibly unappealing and unattractive to me.)

On a final note; I'm a magnet for bad luck, so I've been through a lot, but I try to see the better of things. I consider myself a pretty easygoing, nice person to be around, and I don't expect a lot out of people, so don't be shy to send an invite, just tell me a little bit about yourself. I always try to be there for my friends, so don't hesitate to talk to me about anything. Also, I do bite. Haa.

Well, I guess that's enough that you need to know about me for now. Thank you for allowing me to capture your attention for a while.