About
Hello, everybody! I'm KushielsHandmaiden. You can just call me Kushiel or Kushi, whichever is fine with me.

I love to read, write, and especially roleplay. I'm a big fan of books especially romance novels, manga, anime, vampires, and tattoos.



Visit my quest thread! Bumping and donations would be greatly appreciated.





Click on the banner above for a resource that will help you find quality roleplays fast! Please be sure to mention that I was the one who referred you!


Roleplay Search Thread ll Roleplay Samples




Friends
Viewing 12 of 35 friends
Journal
Wow...am I ever random or what?
If I Put This Cigeratte Out On You...Would You Still Love Me?
Randomness...just randomness upon randomness...I get bored and lonely and this is what I come up with...Don't know why...
Multimedia
Signature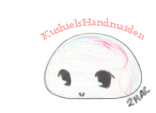 Roleplay Search[size=12]✯
Roleplay Schedule
[/size][/center]