Kuro Neko Kyoko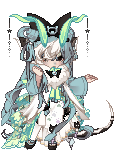 Details
Last Login

12/20/2014 12:19 am
Birthday

03/22
---
Interests
Favorite Movies/Anime
Favorite TV Shows
Favorite Reads
Favorite Music/Bands
About
Hello,
so I guess if you're here you'd like to know a few things about me, well, let's see...I enjoy reading and drawing-though I have little talent for the latter-. I also enjoy making tektek's, and putting together outfits on here so you'll most likely find me hanging around the avatar talk and dressing room forums. One of my other favorite pass-times is gaming, including zomg so if you play you'll most likely see me around at least once.
I have lots of people on my friends list, and most of them I think I meet in zomg, add, and don't talk to again. This is NOT because I'm rude or don't like you, mainly its just that I forget where I meet people and hate to start awkward conversations, but if you'd like to talk, please feel free to comment or send me a message.
My closest friend on here is bippa-san, she's practically my siste
And I think that's about everything you need to know. So to my old friends, thanks for reading this, and to any new people-or ya know, stalkers o.o-, Hi, nice to meet you C:.

Oh and if anyone wants to donate one of my wanted items to me ever, I'll love you for the rest of my characters virtual life ;D.
Some avatar art~:

By Elyssie
By Mizu Eki
By sympathetic pauses
By Ronan Lynch
By xBY13x
By suminoio
By Rorani
By Eukleides
By Lunarieh
By Beastly Harlot
By Kel Pastel
Friends
Viewing 12 of 229 friends