Kuro Hime Hekate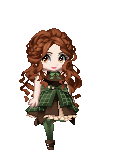 About
Let me see, what it it you'd want to know?


I am very much obsessed with books and writing.


My favourite foods are sushi, chocolate, pomegranates, mashed potatoes, and edamame. (Individually, not all together.)


I'm British, but can do a passable or better American, German, Irish, Scottish, & French accent.


I love to cook.


I love to bake even more.


I

love

pie.

I will

never again

eat a hot dog as long as I live.


I am a horror film junkie, the gorier the better.


I firmly believe that Sarah Williams is an fool for refusing the Goblin King.


I cry at any film involving true love, dogs, or the death of a main character, as well as

every single

Supernatural and Doctor Who season/series finale.


I am more than a little evil.


I am a devout Deangirl and quite firmly on Teams Bowie, Tennant, and Ackles.



My Dream Avatar







Total Value:

5,231,240 Gold


After Exclusions:

4,500,000 Gold
[Item Information]




Item List:


Marceline the Vampire Queen
Le Carousel
Black Widow
Persephone


Onyx Milady Skirt




Friends
Viewing 12 of 42 friends
Journal
Ramblings of a Regal Eccentric
Signature
"Give me the child. Through dangers untold, and hardships unnumbered, I have fought my way here to the castle beyond the goblin city, to take back the child that you have stolen. For my will is as strong as yours, and my kingdom as great. You have no power over me."