Ksi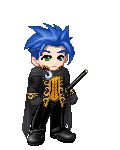 Last Login: 01/10/2015 4:17 pm
Registered: 08/29/2003
Gender: Male
Location: Hynneth Kore
Equipped List
Interests
Favorite Movies/Anime
Favorite TV Shows
Favorite Reads
Favorite Music/Bands
Hobbies/Interests
Forums
Posts per Day: 0.40
Total Posts: 1962
About
Ksi was once a normal guy. However, one day he was told that he was destined to lead an army of holy warriors, like himself, against the forces of darkness. He is an earnest person, who only wants the best for those he cares about, and hopes to ensure the righteous destiny put before him by God. He grew up in Kyoto, and has a strong interests in samurai. He does his best to be a good leader and honor his angelic father.

Signature

Reality = Perception
"Life is what you make it. Why torture yourself?"