krystal moonstar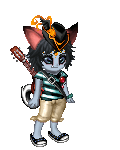 Last Login: 05/13/2016 1:27 am
Registered: 11/20/2006
Gender: Female
Interests
Favorite TV Shows
Favorite Reads
Wish List
About
Well i'm completely insane ask anyone and they'll tell you actually sum might ran away and screaming not her again not the fffffffffffffrrrrrrrrroooooooooogggggggggggg anything but the frog just kidding or am i ??????????????? Anyway insanity aside well i'm a punk,i want t learn how to skateboard,i'm musically challenged and the the o on my computer is dodge so i have to keep re typing it.Huh well i'm that good at english-even though i'm in the top class?? Anyway i like roller blading want to learn how to skateboard more than life it's self-appartly it's too "dangerous".Anyway i love ice hockey it's sooooo cool-what a lame joke.



Studies show that 92% of teens listen to Fergie and Eminem. If you are part of the 8% that still punks out to Bowling for soup, put this in your profile.

I really erase all above as I'm pretty none of it has the remotest thing to do with me any more but since I'm only typing this to earn an achievement I really cannot be bothered.

Hum well that's inspiring..NOT....lets see still alternative for the most part but I wouldn't class myself as punk, haven't been to a hockey match in ages or ice skating man do I miss that. Sadly none of my current friends are really into it and like most things I hate going on my own. Not idea what the bit about the frog was probably some random conversation I had before I started writing this for the first time. I am no longer in high school. At the moment I am studying level 6 social sciences at Dundee College. I do not live my parents and in case they're creepy stalkers (though who in there right mind would stalk me) on this I will not say where I am now. That's it for now.
whatever
me,myself and i are always fighting we just can't agree on anything
i seriously don't have a clue so it will proply just be me waffing on