About
He wakes, who never thought to wake again,
Who held the end was Death. He opens eyes
Slowly, to one long livid oozing plain
Closed down by the strange eyeless heavens. He lies;
And waits; and once in timeless sick surmise
Through the dead air heaves up an unknown hand,
Like a dry branch. No life is in that land,
Himself not lives, but is a thing that cries;
An unmeaning point upon the mud; a speck
Of moveless horror; an Immortal One
Cleansed of the world, sentient and dead; a fly
Fast-stuck in grey sweat on a corpse's neck.


I thought when love for you died, I should die.
It's dead. Alone, most strangely, I live on.
--Rupert Brooke, 1910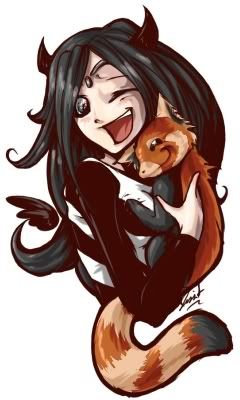 Shaku Loves Kori and Draws Her Pretty Artses

about me? i'm insane. i love kpop, hetalia, harry potter, weiss kreuz, matantei loki ragnarok, chobits, princess tutu, and ranma, and like to RP.



Odds are, I'm not going to accept random friends requests. I used to, but now I probably won't.





Note:

This was keifed directly from shattering_memories, and some things were the same, so i just left 'em. sorry SM.



Name:

koritsimou



Nicknames:

Koryo, Eimi, Kori, Cissy, Cissa, Narcissa, braska, knuckles, Gaignun, Crawford, Omi, Harry



Age:

27! It's only been a year since I last updated my profile. Woot!



Gender:

Female



Location:

Virginia By The Beach, USA



Sexual Orientation:

horizontal, mostly.



Hobbies:

kpop, reading, writing, drawing, RPing, listening to music.



Likes:

kpop, hetalia, Inception, Weiss Kreuz, Interesting and literate roleplays, good quality anime and manga, excellent artwork, the colors black and green, shiny metal stuffs ( ie. chains, blades, swords, etc. )Schuldig and Crawford, especially together..:3, Harry and Draco, always together.



Current Obsessions:

Music. Unknowable amounts.



Treasured item(s):

My sanity and my Schwarz posters



Current Status:

single and bored



Pairing Choices:

Luhan/Lay, Kris/Tao, Baekhyun/Chanyeol, Chen/Sehun, Luhan/Sehun, Minhyun/Aron, Austria/Hungary, Germany/Italy, Spain/Romano, Arthur/Eames, L/Light, Harry/Draco, Albus Severus/Scorpius, Horo/Ren, Yoh/Hao, Ahiru/Fakir, Fakir/Mytho, Omi/Nagi, Schuldig/Crawford

More will be added, eventually.



Quote of the Month:

2007

October:

"My yoo-hoo won't give me a yoo-hoo!" -- Emo_Pirate

November:

"Your work here is done, now shut up!" -- The Ti Chan, to her cell phone.

December:

Nothing, OMFG.

2008

January:

"I see the world coming, and I shoot at it." -- Emo_Pirate

February:

"Jesus wouldn't get run over by a bus." -- Sweety

March:

"...Of course, cause she's a walking mental patient, I had the upper hand." -- The Ti Chan

April:

"I float, fewl 83" -- Pooka

April cont.:

"It was like a ten-car pile-up on the freeway of my brain." -- Kori (yes. I'm quoting myself. *ego puffs up*)

May:

"... well... there are mutant things forming colonies in our sink." -- Kori (myself again, because I didn't have paper handy when other amazing comments were made.)

June:

"My Deluded Bubble of Gay which happens to be in England." -- Gandalf Kitty/Haiiro

July:

"Just wait until the light goes off, because otherwise, it's still on." -- The Ti Chan

August:

"...CHEESE." -- The Ti Chan

(Missed several months cause I fail like that.)

December:

"NAATOM IS LIKE A PINATA OF AMAZING, and when I strike her with a lead pipe, her amazing drops onto me like rain!" -- Claddagh

2010

January:

"The Walking Undead and You: An All-Inclusive Guide To Zombie Philanthropy." -- Myself, on Zombies.

February:

"...it doesnt matter how well you secured the toast..." -- Bobbacca



---

I'm a member of the Leon Fan Club!
Journal
Koritsimou's Writings
falling into darkness with broken wings to break my fall
just random writings and scribbles by me, Kori.
Multimedia
Signature

Please drop by and help me with my achievement thread?

In support of Kris, I am become the Galaxy.
엑소 화이팅!