Kiwi Sebastian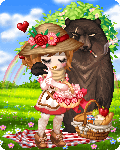 Last Login: 04/18/2014 7:18 pm
Registered: 08/16/2003
Gender: Female
Location: A place where every time you breathe, a wish comes true.
Birthday: 09/12/1988
Signature
Welcome to Almond!



Every teddy bear who's been good is sure of a treat today
There's lots of marvelous things to eat and wonderful games to play
Beneath the trees where nobody sees
They'll hide and seek as long as they please
That's the way the teddy bears have their picnic!



Kiwi x Satu



About
I'm back! Well, sort of.

My name is Steph. Hello! I used to come to Gaia often, but these days I'd rather be browsing reddit or tending to my town in Animal Crossing: New Leaf. But really, I'm just here to say hi to some cool people and play word games. n__n♥ My hobbies include collecting toys and video games, cooking, and being totally awesome. Well, maybe only kinda awesome, actually. I love bears, cephalopods, and dogs. (:

I'm a strong, smart, sensual... independent woman who don't need no man! But I got one anyway. So there's that.

Oh yeah.
[******** CANCER.[/b][/size]

Okay now get outta here.