Kitty_one_piece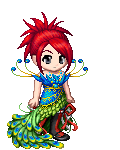 Last Login: 09/13/2013 6:26 pm
Registered: 05/28/2006
Gender: Female
Location: No where you want to be.
my story
Written by chunli-ninja

Okies here's you story X3:

Kitty_one_piece wasn't any ordinary girl. She was like half ... everything. She was very strong and almost capable for anything. Kitty went to Magical Academy. Where all different kind of races could be appreciated. Even though Kitty was very strong she only had a few friends. Kitty had a crush on the hottest guy in school , but sadly he had another afair with someone else. So next Friday was "Prom Day" so they call it. Kitty was sad and no guy ever liked her . Her two friends Ami and Kumi already had dates., ".... No worries.." They both said sheepishly. " You'll get a date ... umm... just come anyways for the fun of it ." They said with a sweat drop behind their heads. Kitty just nodded her head. " Ok... , but I doubt anyone would like to dance with me.." She said sadly. Then she went home and got dressed into a beautiful dress. Once she got there she sat alone for hours. In dispair once she was about to leave she went out to the balcony on last time. After all it was her last year at Magical Academy. Then once she was about to turn around The guy that she had loved ever since she seen him was infront of her. He smiled and whispered. " I have always loved you, but I was too shy to tell you .... but now I am ready.," He said as he grasped her into his arms.
Equipped List
likes... and stuffs.
Favorite Movies/Anime
Favorite TV Shows
Favorite Reads
Favorite Music/Bands
Hobbies/Interests
Wish I Had.
All About Me
So you wanna know about little me? Well lets see....I'm at that level of crazy that makes me completely sane. I have a low bullshit tolerance. I can only take so much. I can take cookies though. I love cookies. Ummm anymore than that, well the PM button is around here somewhere.
Journal
my insanity
just random scribbles
Forums
Posts per Day: 7.85
Total Posts: 21626
Signature