Kitten Kochanie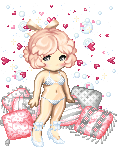 Details
Location

USA

Gender

Female

Birthday

06/12
---
Interests
Favorite Movies/Anime
Favorite TV Shows
Favorite Reads
Favorite Music/Bands
Hobbies/Interests
About
Some day I'll write something interesting for my "About Me" section, but today's not that day.

Got a question?

Ask away!
Journal
Amor Et Melle Et Felle Est Fecundissmismus
Love Is Rich With Both Honey And Venom
A glimpse into the mind of Tarnished Glitter... an extraordinary girl in an extraordinary world.