~* General Information *~
Gaia's first kyuubi and member since 02/28/2003. I'm likely the oldest fox you'll find still lurking about around here.
Basics
Aliases:

Kitsune, Kits or Kitsy


Age:

Older than she looks


Sex:

Female


Height:

5'7"ish


Weight:

Heavier than she looks


Likes:

Anime, baking/cooking, fusion foods, fantasy novels, costuming/cosplay, fantasy/sci-fi movies, making character profiles (and not necessarily playing the characters), teaching English, off-roading, going to renaissance festivals, anime/comic book conventions, crafting


Dislikes:

Certain dairy products, working more than ten hours a day, romance movies, touchy-feely people, micro-managers


Current Project:

Making cutesy acrylic jewelry and accessories

My Favorite...
Color(s):

Black, silver, red


Combination(s):

Black and red, black and silver


Food:

Chinese and Japanese cuisines, hot wings (traditional)


Dessert:

Chocolate cake


Animal:

Fox (any and all kinds)


Book:

No favorite


Play:

The Lion King


Poem:

Beowulf


TV Show(s):

The Middle, Modern Family, The Goldbergs, The Strain, The Leftovers, Castle, The Simpsons, Family Guy, Futurama, Avatar: The Last Airbender/Legend of Korra, Game of Thrones, Regular Show, Adventure Time, Steven Universe, Sleepy Hollow, Gotham, all kinds of Korean dramas, House of Cards, Hemlock Grove


Current Anime:

Attack on Titan, Free!, Pokemon


Movie(s):

Iron Man series, The Avengers series, Big Hero 6, The Book of Life, The Hobbit series


Actor:

Johnny Depp (He is the only person in the world I would have babies for, no questions asked! <3 )


Voice Actor(s):

Ken Narita, Scott McNeil


Season:

Summer and Fall


Month:

October


Holiday:

Halloween


Favorite Element:

Fire


Image Song:

Arcade Fire - Abraham's Daughter


Lullaby(s):

Once Upon A December, Come Little Children, Sally's Song


Background Song:

AoT OST - Vogel Im Kafig


Quote:

"Shikata ga nai." (It can't be helped.)


Word to describe myself:

Eccentric
Hogwarts Information:
House:

Slytherin (Hatstall)


Best Classes:

Care of Magical Creatures, Charms, Transfiguration, Divination


Worse Classes:

Potions, Frog Choir, Arithmancy

Known Organizations
-Nogitsune Bouryokudan
-Death Dealers
-The Organization
-Elite Four - Spring Division (Master of Dark Types)
-Umbrella Corp.
-COBRA (lead scientist)
-Decepticons (Special Ops)
-The Cook/Apothecary for the Intercessor
-Member of the 42nd Airship Battalion of the Steampunk Empire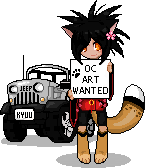 PM me if you're interested in drawing for me