Kite_shadow89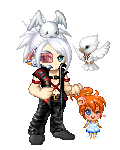 Last Login: 12/20/2014 4:23 am
Registered: 10/04/2005
Gender: Male
Location: Heemskerk, the netherlands
Birthday: 12/07/1989
Art
Signature
As I fall to sleep, will you comfort me?
When my heart is weak, will you rescue me?
You're better than drugs
About
Name: Kayren
Age: 23 winters old
Race: unknown
Height: 1.76 m
Weight: 57.4 kg

Haircolor: red atm
Eyecolor: green/blue/gray
Clothing style: casual to victorian

History:
Born in a small town, raised in a small town, and now living on a small island. My name is Kayren and I'm a 23 year old student from the Netherlands.


Likes:
Music. Lots and lots of music. I like Jrock, pop, rock, alternative, anything not screamy and still a bit fast. But also soft and sweet....
Dreaming, I have a huge imagination and I love to dream about strange things. My dreams are always strange and sometimes a bit scary.

Best things ever invented:
Fanfiction, anime/manga, handcuffs, whipped cream, and ball-jointed-dolls, sheep.

Dislikes:
I hate bees and stupid people.... Also sunlight and wannabees.


...