Its me, Kisotaki!!!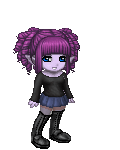 Last Login: 02/21/2016 8:06 am
Registered: 11/09/2005
Gender: Female
Location: Tennessee
What i have on
here is my house....
Things about me
Hi, I'm about 5'4" tall. I have light brown hair and hazel (brown and green) eyes. My younger brother says that the shape of my eyes looks chinese when I'm not wearing my glasses. LOL. Well, if you want to know more, get to know me better by adding me to your friends list!!!
Where i post things....
Posts per Day: 0.15
Total Posts: 603