Kirana Azadju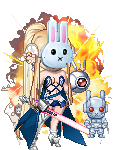 Registered: 03/26/2008
Gender: Female
Birthday: 06/18/1990
about me
Hi there =]

My name is Katha. You can call me Kat.
I am 23.
x


I like:
♥ summer
♥ cats
♥ One Piece
♥ swimming
♥ being creative
♥ strawberries
♥ katana swords



About kirana
Kirana Azadju is my OC; an elf girl, traveling the lands usually alone. Raised as an assassin from a very young age and losing her family when she was six, Kira is used to defend herself and overcome hard times. She often works as a spy, courier, infiltrator or fighter for whomever seeks such services, but always demands her freedom in exchange, to stay without commitment.
Also some would call her a pilferer..
Kira is smart but reserved. It's very hard to gain her trust, but once you do, she will be unconditionally loyal. Betray her tho and you will wish you'd never been born.