About
Y HALLO THAR. OMGWTFLOLBBQ
Watch my video, you won't regret it.
Please do not post me a copypasta'd comment thanking me for buying from you, because it's annoying and pointless. I did not

choose

you to buy from: had someone else posted the item for a lower price, I would have purchased it from

them

. Thank you.
Name:
Kelley
DOB:
May 28th, 1988
Status:
indefinitely engaged
Sex:
female
Gender:
genderqueer, but mostly female
(gender pronoun: he, she or
xe
- I'm not picky)

Orientation:
bisexual
What I Like:
pit bulls, cats, agnosticism (No one knows, and neither do I), sex education, sign language and Deaf Culture, people that stand up for their beliefs without forcing them on others, and the Wilhelm Scream
What I Don't Like:
store-bought bouquets, mushrooms, people who are obsessed with Twilight (either pro or against), organised religion and religious organisations (Focus on the Family, for example), living in a small town or village, Michael Jackson (hated him when he was alive, hate him even worse now), fluffy bunnies, PETA
Favorite Music:
my taste in music does not centralize
anywhere;
I enjoy a little of everything, except country. I
hate
country...

Anyway.
The Aquabats
; The Beatles; Brand New; Cake; Chameleon Circuit; The Cliks; David Bowie;
Dead Kennedys
; Declan McManus, International Art Thief; The Dresden Dolls;
Eels
; Electric Light Orchestra; Elton John; Erasure; Fall Out Boy; Harry Belafonte; Hedwig and the Angry Inch; Klaus Nomi; KMFDM;
Lady Gaga
; Led Zeppelin; Lunasa; The Magnetic Fields; Mindless Self Indulgence; Mon Frere; The Monkees (the psychedelic stuff); Mr. T Experience;
Muse
; My Chemical Romance; NWA;
OK Go
; Old 97's; Otis Redding; Pink Floyd; The Presidents of the United States of America; Rage Against the Machine; Scissor Sisters; Simon and Garfunkel; Styx; Tenacious D; The Twilight Singers; The Violent Femmes; Ween; Weezer; Yes
Favorite Shows:
Doctor Who,
the Mighty Boosh, Community, QI, Futurama, Sherlock, House, Buffy, Arrested Development, Scrubs (the
actual
Scrubs), Black Books, Merlin, The IT Crowd, 30 Rock, Robin Hood, Farscape,
Glee
(jesus ******** christ this show jumped the shark early), Firefly, Torchwood (first three series), Lexx, Coupling, Top Gear - BBC much?

Favorite Movies:
Secretary, Eternal Sunshine of the Spotless Mind, Enchanted, Subway (a BRILLIANT french movie with the guy from Highlander, and Jean Reno-directed by Luc Besson), Ever After, Tangled, Singing in the Rain, Beauty and the Beast, Titanic (yes, really), LA Story, Roxanne; Temple Grandin, Gormenghast, Memoirs of a Geisha, Lola Rennt, Fight Club, Rope; Blade Runner, Inception, Willow, Serenity, Hellboy, Twelve Monkeys, Star Wars (yes including the bad ones), Spirited Away; The Great Mouse Detective, Reservoir Dogs, Kill Bill 1 & 2, Mulan; The Cell, Dracula (1931), Vertigo, From Hell, Black Swan; Idiocracy, Saved, M*A*S*H, The Princess Bride, Withnail and I, My Favorite Year, Anchors Aweigh, The Big Lebowski, Wreck-It Ralph; probably so many more...
Favorite Musicals:
RENT (1st tour RENThead, since 1997), Les Miserables, Into The Woods, Aida, Wicked, Avenue Q, Little Shop of Horrors, Young Frankenstein, Assassins, Dr. Horrible
Favorite Plays:
Arsenic and Old Lace, Blythe Spirit, Butterflies Are Free, All In the Timing, The Goodbye Girl, Arcadia, Rosencrantz and Guildenstern Are Dead
Favorite Authors:
JK Rowling, Neil Gaimon, Philip Pullman, Tom Stoppard, Patricia Wrede, Christopher Paolini, Chris Van Allsburg, Shakespeare (Except Midsummer Night's Dream), DC Comics (including but not limited to Vertigo) and I like Fables but not the guy who wrote it
Favorite Comic Book Characters:
Spider Jerusalem, filthy assistants, the Endless, Green Arrow, Captain Marvel/Billy Batson, Dream Girl, Batwoman
Favorite Artists (visual):
John Waterhouse, Jess Fink, Banksy, Van Gogh, Erica Moen, Jillian Mayer (below)
Favorite Consumptions:
Honest Tea, Phở, Sushi (California roll with brown rice, shumai, and inari), Indian Food (specifically naan, matar paneer and aloo gobi), chocolate, mac & cheese, tofu, cup noodles, chocolate chip cookie dough, jazz apples, bacon, cream of wheat, Diet Dr Pepper, peanut butter and chocolate (like Reese's), popcorn, tequila, shrimp, gum
Favorite People:
my future husband, my friends from Hazel Wolf (that means you, Tess), Nathan Fillion, Eddie Izzard, Harto (My Drunk Kitchen), and
Zach Anner
who ROCKS.
Life Story (the short version):
Pending.
Quote of the Moment:

Like me? Buy me one of these




Or make me some art!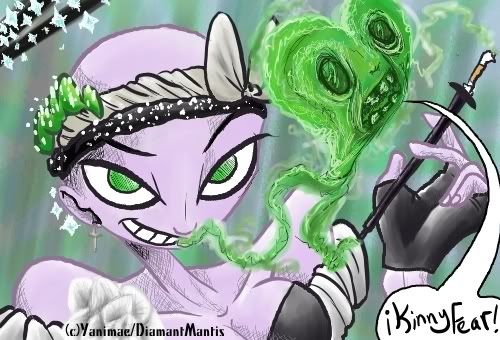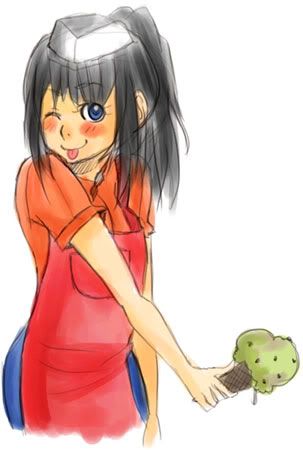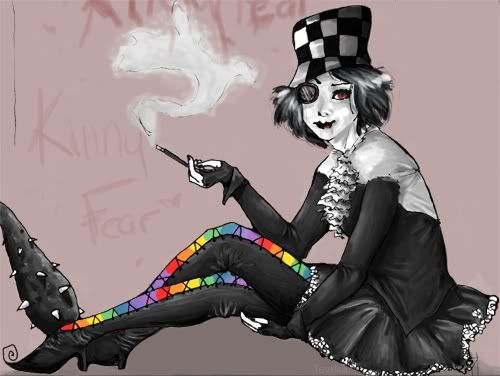 If you are reading this, I assume that you took the time to read my profile. If you still wish to thank me from buying from your MP store, I'm touched by your gratitude, and sincerity. Thanks for taking an interest.
<3 Kɨɳɴץ Fϵⱥʁ
Friends
Viewing 12 of 161 friends
Journal
99 Luftballons
Multimedia
Signature


"either way i am happy to have made someone so mad that they shipped me with someone" -vvaniloquence
#NeverForgetTuni'sMistake #NeverForgetKinny'sMistake

btw
if you have a problem with trans* people, ******** you.