About
When shadow comes, to claim our souls - some must rise, the light of old.
Names in stone, spirits of legend - Deeds unknown, yet never forgotten.

Man anírach cerin an le?


I migrated myself over to my new character, Tarnished Fairy.



Labo vi Orodruin..
Seriously.. what the bloody hell, Gaia?
As it turns out, my main account Tarnished Fairy has been banned under false charges of botting.

I have done no such thing and refuse to surrender an account with many friends, valuable items, gold, and lots of played time such as that, so easily. Untill answered, I will continue sending feedback to Gaia every two weeks or so, as to get my account back. I have not once botted in the 3 and 3/4 years I have been on Gaia.


To all of a sudden have my account banned, with no prior warning mail, for something I have never and will never do.. has not sat well with me. I'm not upset at losing my most played account and being forced to 'quit' Gaia, having to virtualy all start over again (with the exception of donations and items loaned to friends from Tarnished Fairy). No. I'm upset about being banned for something I didn't do. As would anyone, I'm sure.


Anyway I'll stop ranting about this for probably the 20th time now. =P
Untill I get Tarnished Fairy back, however, I shall be checking my mail daily on Kida, should any of you happen to message me. =)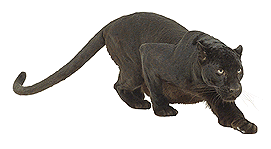 Moving on...


Stuff that Interests me:





Movies

:
Lord of the Rings, Batman, X Men, Constantine, Harry Potter, Van Helsing, Interview With The Vampire, Pirates of the Caribbean, Superman, Spiderman, Transformers, Hidalgo, 300, V for Vendetta, Underworld, Monty Python and the Holy Grail, Cabaret, StarWars, Balto, The Lion King, Spirit: Stallion of the Cimarron, Two Brothers, A Knights Tale, Chronicles of Narnia, Memoirs of a Geisha, Ace Ventura Pet Detective


Animals

:
Owls, Horses, Black Panthers, Wolves, Dragons, Snakes, Cats, Goldfish, Birds of Prey


Fantasy Races

:
Tolkien elves, Vampires, Hobbits, Were-Creatures, Centaurs


Also Likes

:
Pirates <3


Food/Drink

:
Breads, Pasta, Beef jerky, Salads, Fruits, Steak, Chocolate, Snow crab, Lobster, Soups, Red/White wines, Champagne, Granola bars, Cup noodles, Chinese take-out, Tuna, Seafood, Canned peaches, White cherries, Apples, Fruit juices, Hot chocolate, Mochas, Tea with cream, Sparkling cider


Colours

:
Reds, blacks, browns, greens, silver, gold


Favorite Reads

:
Fanfiction, Romance, Fantasy/Adventure, Mystery, Mythology, Ancient Histories, Astronomy


Top Favorite Authors

:
Anne Rice, J.R.R. Tolkien, J.K. Rowling, C.S. Lewis


Music

:
Heavy Metal, Techno, Trance, Smooth/Urban Jazz, Opera, Classical
(Never picky. As long a it's not rap, i'm happy =P)


Music artists

:
Enya, Loreena McKennitt, Celtic Woman, Andrea Bocelli, Josh Groban, Sarah Brightman, Imogen Heap, Annie Lennox, Vanessa Carlton, Evanescence, Nightwish, Sarah McLachlan, Within Temptation, Groove Coverage, Tatu, E Nomine, Apocalyptica, Metallica, Korn, System Of A Down, Bloodhound Gang, Rob Zombie, Ra, Shakira, Rammstein, Smash Mouth, Barenaked Ladies, Three Days Grace, Switchfoot


Video/Online Games

:
World of Warcraft, Jack & Daxter, Guilty Gear, Bloody Roar, Final Fantasy, .hack, Drakan: The Ancients Gate, Sims, Kingdom Hearts, Harvest Moon, The Legend of Dragoon, Prince of Persia, Pokemon, Chrono Cross, Arc The Lad: Twilight of the Spirits, Musashi, Lunar


Cartoons

:
Family Guy, Futurama, Gargoyles, Robot Chicken, Swat Cats


Anime/Manga

:
.Hack//Sign, Magic Knight Rayearth, Big O, Gankutsuou, Vampire Hunter D, NightWalker, DBZ, Outlaw Star, Berserk, Hellsing, Detective Conan, The Vision of Escaflowne, Death Note, Angel Sanctuary, Ouran High School Host Club, Lupin the 3rd, Wolfs Rain, Chrono Crusade, Saiyuki, Studio Ghibli Films


Misc. Stuff

:
Feathers, Forests, Wind, Silver, Celtic Jewelry, Candles, Quills & Ink, Dream Catchers, Glowsticks, Shiny Things, Crosses, Pentacles, Bows, Sowrds, Pretty Rocks, Duct Tape, Fuzzy Slippers, Baggy Pajamas, Jingle bells, Coffee Mugs


Is On

:
World of Warcraft, Gaia Online




Dislikes:




People

:
-Narutards (or any stupid/rabid fan)
-Overly-happy, stupid people
-Wanna-be's
-Little Children


Other

:
-Rap
-Rudeness
-Cigarette smoke
-Hot Weather
Yo Ho, All Together, Hoist The Colors High.
Heave Ho, Thieves and Beggers, Never Shall We Die.
Friends
Viewing 9 of 9 friends
Journal
Once Upon a Time: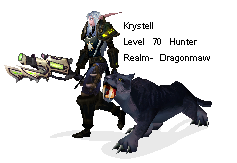 I havn't updated in so long. You can read if you're curious.. but, for the most part, these entries are just random, pointless drivel. So old that they even scare me. D:
Multimedia
Signature



Kida likey comments! 8D
Current Read: The Vampire Lestat by Anne Rice



^48 images^
I <3 WoW