"Searching (for something), never tired of smiling, we fool around in the city's corners.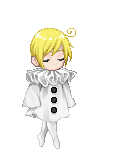 Last Login: 08/28/2015 7:12 am
Registered: 05/25/2005
Birthday: 03/07
All of us trying to chase away the sad shadow of a stubborn heart and dark eyes,
Shameless young blood looking through a glass darkly with eyes that haven't seen beyond a white picket fence.
even if it's only through fights, flirts and grumbles.
Favorite Movies/Anime
Favorite TV Shows
Favorite Reads
Favorite Music/Bands
I no longer understand for what purpose I am living. You hold your hands out, the city doesn't want you

"And all I loved, I loved alone."