Kibimaru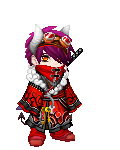 Details
Last Login

01/29/2015 11:41 am

Member Since

05/21/2006
Location

Mesquite,Texas

Occupation

Projectionist

Gender

Male

Birthday

01/05

Website
---
Interests
Favorite Movies/Anime
Favorite TV Shows
Favorite Reads
Favorite Music/Bands
About
Here's a note about the guy that is me:
My real name is Anthony.
I'm 27.
Single....
I'm from Texas
I like cookies.(Milanos and White Chocolate Macadamia.)
I have a job.
I like movies
I like video games.(I own a 360, Wii, Gamecube, Ps3, Ps2, Ps1, PsP, Dreamcast, And 3DS)
I get bored easy.
I'm easy to talk to.
I'm easy to forget.
I'm hard to remember.
I"m out going.
Last time I checked, I'm still breathing.
I like Anime.( some what of an otaku)
I like egg rolls.
I like beef ramen.
I'll try to update this when I can.
Think I'm missing anything or wanna know something? Feel free to ask.
Pm's are always welcome.

Me tumblr
.
This is me

Friends
Viewing 12 of 55 friends
Journal
Kibi's two cents about anything.....
I'll get back to you....
Multimedia
Signature

"There is in every madman a misunderstood genius whose idea, shining in his head, frightened people, and for whom delirium was the only solution to the strangulation that life had prepared for him.
- Antonin Artau"
My tumblr