Me and my favorite people!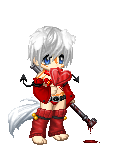 Last Login: 01/27/2014 4:46 pm
Registered: 08/23/2007
Gender: Female
Birthday: 12/23
Oh great, this thing!

Hello Gaians! And welcome, to my profile! =D

I have NO idea what to write here! But, all you really need to know is I am an artist, I am nice, and I love the color orange!

Soo uhm... here is stuff I like!

Drawing, reading, writing, RPing, forest walks, video games, The Elder Scrolls, Harvest Moon, Tales of Vesperia, Lord of The Rings, Xena the Warrior Princess, Supernatural, Saiyuki, furries, cute things, animals, babies, old people, pillows, potatoes, candy, dark chocolate, fantasy, etc etc, the list goes on and on and into oblivion and I don't like talking about myself. xD

Ask if you wanna know something.

Feel free to talk to me or whatever. I enjoy meeting new people~

Wanna check out my art? Here be my gallery!
http://www.furaffinity.net/user/oddisyn/





Holy!