Me and my favorite people!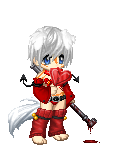 Last Login: 01/14/2015 3:43 pm
Registered: 08/23/2007
Gender: Female
Birthday: 12/23
Oh great, this thing!

Hello Gaians! And welcome, to my profile! =D

I'm just your friendly neighborhood puppy.

Ask if you wanna know something.

Feel free to talk to me or whatever. I enjoy meeting new people~

Wanna check out my art? Here be my gallery!
http://www.furaffinity.net/user/oddisyn/





Holy!