About
Things that I love:
anime(mostly comedy ones)
video games
acting crazy
making people laugh
reading
anybody that's nice
random pms
Yuri
oldies, rap, r&b. vgmusic, rock, techno
Things that I hate:
Mean people
Being in a rut
Racists
Being Interrupted
Country Music
Oh and my other half(Yarru) kicks a** by helping me in my ticket quest! She Rules All!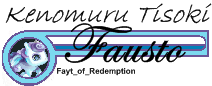 Friends
Viewing 12 of 119 friends
Journal
The Journal of Everything
I write about anything that I can possibly thank of. I hope you enjoy reading it(if you are on my friends list that is) and feel free to leave comments if you like.
Multimedia
Signature
Highest Score in Pinball: 10,497,700



3DS Friend Code: 0834 1393 1853