The Many Faces of Kchan27

Stuff so I'm not naked...
the "I freakin wish" list
Kchan27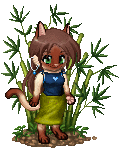 Last Login: 09/22/2012 11:01 pm
Registered: 04/28/2007
Gender: Female
A general summary of stuff about me!
I love anime, animals, art, music, video games and board games.

Harry Potter are my fav books.
Fushigi Yugi and Cardcaptor Sakura are my fav animes
Pandas are my fav animal
I like music like Cranberries, T.A.T.U., Teddy Bears, Linkin Park, Evanescence....
I love video games like tetris, zelda, kings quest, heroes of might and magic 4, zoo tycoon, sims2
Fav board game is Apples to Apples, also love scattergories and boggle
Im in college for my second bachelors degree to become an art teacher. yaay!
Married for a little over a year.


I have myspace and MSN, so message me if you want to find me on there.

Check out my Deviantart if you want to see my artwork.
kchan27.deviantart.com
Siggie of Doom


VISIT MY SHOP!






THANK YOU GLYF!!!