Welcome!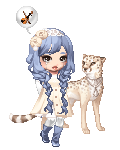 Last Login: 02/07/2015 3:57 pm
Registered: 12/20/2011
Gender: Animal
What I'm Wearing
No items equipped.
Find my threads here
Posts per Day: 0.14
Total Posts: 163
About Kitty
Hello folks! I'm Kaitlynn, but everyone calls me Kitty. I like meeting new people so if you wanna make a new friend, send me a message!

Molly is our head admin for Kitty's Auction House, so she has all of our logins. Don't be surprised if she's switching between our accounts.