Me, Obviously.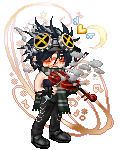 Last Login: 11/19/2013 12:48 am
Registered: 09/10/2004
Gender: Female
Location: TEXAS
Birthday: 03/26/1990
Occupation: College Student/ Worker Slave
I Look Pretty....
What Interests.....? Just Kidding.
Favorite Movies/Anime
Favorite TV Shows
Favorite Reads
Favorite Music/Bands
Hobbies/Interests
I Want~!
Girl, 21, Charming but Insane
Hey there! I've been a Gaian for a long time. Started playing in my teens and now I'm 21. Wow. It's been a while since I've last been on and a lot has changed so be patient with me. Otherwise! I'm a geek who likes rping. (In videogames, D&D, online, etc.) I play the viola, watch anime, read manga and webcomics, and have tons of little quirks once you get to know me. Nice to meet ya!