So... you're here to learn about me eh?



Hey I'm Katrina no duh! I do try to get on gaia as much as I can. I have a myspace you can get it in my siggy. Yeah so you should talk to me.

My avatar.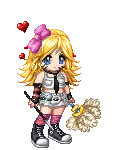 Last Login: 10/18/2008 6:13 pm
Registered: 10/07/2006
Gender: Female
Location: Maryland
Birthday: 12/16/1992
Occupation: Um, Idk? :]
What I'm wearing duh.
Buy me stuff and I'll be nicer.