My Aquarium
KathrynSkyz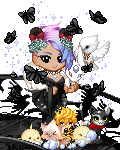 Last Login: 09/07/2015 7:46 am
Registered: 07/19/2010
Gender: Female
Birthday: 01/29
Equipped List
Interest Tags
Favorite Movies/Anime
Favorite TV Shows
Favorite Reads
Favorite Music/Bands
Hobbies/Interests
My Car
About
HI YALL MY NAMES KAT
Im RARELY ANGRY IM ALWAYS HAPPY TILL U PISS MY OFF.
I LOVE DANCING AND I MENTION IT ALOT SO YAH.
IM REALLY RANDOM SO OK
IM ALWAYS BOUT FREE STUFF OCCASIONALLY I GIVE AWAY GIFTS WITH NO 2ND THOUGHT.
IF U NEED ANYTHING JUST PM ME ILL SEE WAT I CAN DO 2 GET U IT BUT DONT GET SELFISH THINKING OHH SHELL GIVE ME ANYTHING I WANT IF I CANT HELP YA ILL PM U IF I CAN ILL STILL PM U .
I CAN DO ALL KINDS OF DANCING DONT BELIEVE ME U CAN ASK ALL OF MY FAMILY.
I HAVE FB.
IM A STRAIT A STUDENT SO DONT TEST ME .
I AM IN A BAND. THE NAME OF THE BAND IS MY SECRET DIARY.
I PLAY EVERY WHERE INCLUDING:

Our World: KathrynSkyz
Social Life: Kittie Kat
Minecraft PC: KathrynSkyz
Xbox Live: KatWmn411
Dueling Network: KatSkyz
Kongregate: KathrynSkyz
Games for Girls: kathrynskyz
Gamezhero: KathrynSkyz
GaiaOnline: KathrynSkyz
SmallWorlds: KathrynSkyz
Smeet: KathrynSkyz
wANNA KNOW MORE? PM ME!

Wish List