Kateh_the_Shifa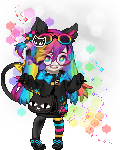 Last Login: 04/18/2014 10:49 pm
Gender: Female
Birthday: 01/10
Everthing that's hiding the birthday suit.
Coversational Activity
Posts per Day: 2.34
Total Posts: 2055
Complicated thoughts that have to be said are here.
From the journeys of Kateh.
I had a need inside me to write. I want to be noticed. So in this place, I'll write whatever comes to mind. Take this as my journal. Maybe I'll keep this one up.
Random guild thingies. Ya know. Important places.