Kateh_the_Shifa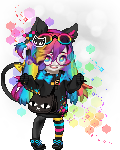 Last Login: 12/15/2013 2:34 pm
Gender: Female
Birthday: 01/10
Everthing that's hiding the birthday suit.
My obsessions and fascinations.
Favorite Movies/Anime
Favorite Reads
Favorite Music/Bands
Hobbies/Interests
Complicated thoughts that have to be said are here.
From the journeys of Kateh.
I had a need inside me to write. I want to be noticed. So in this place, I'll write whatever comes to mind. Take this as my journal. Maybe I'll keep this one up.