Katarina Everard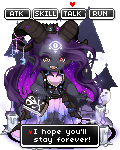 Details
Last Login

09/21/2017 2:18 pm

Member Since

11/16/2004
Gender

Female
---
Interests
Favorite TV Shows
Favorite Reads
About


Name: Katarina Everard
Nicknames: Kat, Eve, Twi, or just about anything else you could come up with.
Age: Depends on how I'm feeling that day
Likes and Dislikes: A lot of things...
Relationships: Taken

Usually in the B/C forum, lurking around and doing a bit of rp when the mood strikes. Only hanging around a few shops these days.




Friends
Viewing 12 of 23 friends