Kamikaze Pixie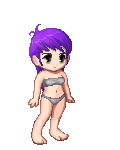 Last Login: 09/05/2016 4:09 pm
Registered: 09/18/2005
Gender: Female
Location: Wherever I want.
Birthday: 12/15/1979
Occupation: Major annoyance, Healer
Equipped List
No items equipped.
Interest Tags
Favorite Movies/Anime
Favorite TV Shows
Favorite Reads
Favorite Music/Bands
Hobbies/Interests
Wish List
About
Hi Hi! I am just a simple Air Pixie who likes to have fun. And if you are on the wrong end of my pranks, know this. I only pull pranks on people to make them laugh. For laughter is truly the best medicine. So laugh already!!! Tehehehe
Journal
The Kamikaze Pixie
A Pixie's search for the ultimate answer of life, the universe, and everything while fighting in the War of the Gods.
Signature


What type of Fae are you?