Kami2645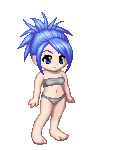 Last Login: 08/15/2007 12:29 am
Registered: 05/26/2007
Gender: Female
Location: Orlando, Florida
Occupation: Being Myself!
Interest Tags
Favorite Movies/Anime
Favorite TV Shows
Favorite Reads
Favorite Music/Bands
Hobbies/Interests
About
Aloha... I'm Stefanie, but my friends just call me Kami. I was born in Hawaii, but i currantly live in Florida. Ask any one i know and they'd probabaly agree when i say i'm a very complex person. Most of the time i'm hyper and almost always board. 3 things i LOVE, are my family, my friends, and my life!!I'm a drumer, pianoist, and i'm learning to play the guitar. I like video games, some sports, animals, anime, manga, and hanging out with friends!! I love Rock/Punk music, and other songs too. I 'hate' when people label me as something, because i am who i want to be and i'm ok with that. Call me what u want, but it's not going to change who i am!!!

Wish List
Signature
<3 <3 <3 ya!!! - Kami *_*