kalika_2011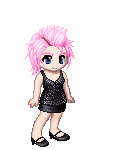 Last Login: 06/22/2010 11:57 am
Registered: 09/27/2005
Gender: Female
Location: USA
About Me!
Well, I'm 14 years old... I'm a girl.... and I love music. Me and my friend have a band. It's called Melodic Lullaby. Right now there's only two members and no instruments. But I have high hopes!
House
Journal
Kalika_2011's Journal
Hi. My fave colors are black and red. I'm 13 years old.