Inpormasyon
I'm a culinary student.. i really love PASTRIES..
i love to bake cookies, muffins and cake..


also fond of decorating cake..
I DO love making chocolate pralines and truffles.


I also cooking for my family and friends.

I love to play badminton and jog outside


i also love swimming and watching movies..




ME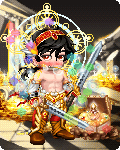 Birthday: 05/05
Interest Tags
Favorite Movies/Anime
Favorite TV Shows
Favorite Reads
Favorite Music/Bands
Hobbies/Interests