Meet Me in the [ Hotel Lobby ]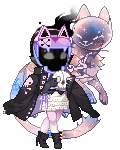 Last Login: 12/13/2013 6:13 am
Registered: 09/24/2006
Gender: Female
Location: Beyond the Horizon
Birthday: 04/24/1991
Occupation: Gunner, student, captain of the Archangel
Ashes to Ashes
Diamonds are a Girl's Best Friend
Favorite Movies/Anime
Favorite TV Shows
Favorite Reads
Favorite Music/Bands
Hobbies/Interests
The World is _Fu||_ of Money [ Full of Mon3y ]
Current Quest ::
Everybody's Lookin' Loney

Hello world~

While my username might be Kailey Koreco, feel free to call me Kailey, Kae, or even Cas if you want to differentiate between myself and my main OC.

I am currently 21 and attending community college for a BOT: Administrative Assistant degree. My dream in life is to become a video game designer--mainly in the art and 3D modeling aspects--so I am hoping this degree will help me get a job so I can save up to pursue more appropriate schooling.

I live in Connecticut, U.S.A., which for some means I live in the future.

I'm an avid Rper, though I mainly frequent the B/C forum and Rp in some of the communities there. If you're at all interested in Rping with me though, feel free to drop me a PM! I'm also an avid artist, and can be found doing some art at some of the said shops in the B/C.

Or doodling random art for myself and friends. Whichever strikes my fancy, haha.

Ciao for now~

S h e doesnt Listen to Her -Best- "Friend"
Sault~!
♥ Kae's

Looking for NotM and TiH plots

~<3

Bias for a Dragon <3







NotM Plots || TiH Minis