Junge Leiche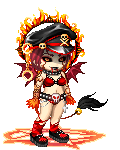 Details
Last Login

08/26/2015 12:49 am

Total Posts

23462

Posts Per Day

4.80

Member Since

09/08/2003
Gender

Female

Birthday

07/07/1984
---
Interests
Favorite Movies/Anime
Favorite TV Shows
Favorite Reads
Favorite Music/Bands
About
Update 15/08/11:
Had another WL cleaning although this one wasn't nearly as big as the last:
With

1.081

1.5 million I bought:
Poet Macabre
Checkered Remorse
Berserk Conjuror
The Suspended Traitor
Pimp King of Pentacles
Celestial Monarch
Evil Ki
Toxic Strongman
<b>Maquillage
Envious Night Jewel</b>
Previous list clearning:
Here's what I bought with the 6 Mil (5.9 Mill after taxes):
#0000FF Complex Shirt
Aeschylus's Order
Arbiter of Pain
Assorted Contact Lens Set
Azrael's Shadowgear
Boa Constrictor
Brimstone Blade
Captain Ara's Nest Egg
Darkened Cello
Decayed Skullheads
Demonic Circle
Depth of Hades
Ebony Sewell
Field Creeper
Firebreather
Flight of the Macaw
HIPster Blue Tint Shades
Hyena Companion
International Gasmask Germany (BDay Pressie)
Jinxi's Charm
Lila's Burning Halo
Lumiere Noire
Masters Gown (Didn't buy. Just don't want anymore.)
Metal's Last Hope
Minotaur Asterion
Nightmare Fuel
Nitemare Headband
Obsidian Glamrock Boots
Obsidian Seahorse Tail
Pizarro's Armaments
Quintessence of Devay
Red Fenghuang Feather
Regalia of the Flame Tongue
Science Camp Tesla Coil
Scorch Scarf
SDPlus #189 Alanar
Shark Tooth Sword (Didn't buy. Just don't want anymore.)
Smok the Baby Dragon
Strongman's Might
Sulferic Brawler
Sword Eater's Blade
The Case of Pietro
Toxic Kitten
Verde Vixen
Viking Love
Warlock School
Warrior of the North
Zebra Sukutai
Still undecided about my Mini Shop however. Nothing's changed pixel-wise and I've just started a stamping account on DA.
Have a looksy!
I really want to open it this year but I still haven't pixeled much for it yet and I'm not opening it without new merchandise.
Friends
Viewing 12 of 84 friends
Journal
The Notes of Raven
I no longer post here.
Multimedia
Signature

I have signatures disabled!