Joyrich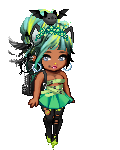 Gender: Female

All is fair in love and war.


She wanted to love and be loved, and so it was done.
Its nice finding someone who does not take you for granted, and loves everything about you.. I can honestly say I would do anything for the man that I love.
"Who wants that perfect love story anyways?
Cliche, Cliche, Cliche .. "





-K.B