About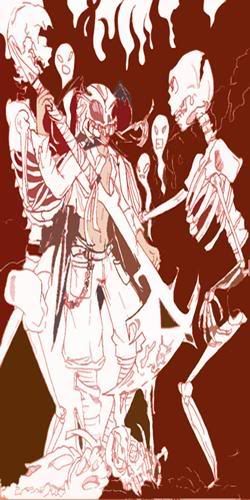 I am Jin Yokimo. Many of you who know me do so from the Avatar Talk forum. It and the GCD are my home forums. There, I am known as the man with the skull on his head.
This avatar is uniquely mine. Like a great scientist, I saw another skull avatar, one very different than mine today, and thought,
that's amazing. I'd love a skull avatar.
And with that, I set out to create a truely horrific monster. I am not goth, or emo. I just really like this avatar, and I feel it is far more demonic than any noob wearing seven Dark Halos could ever hope to be.
Over the two and a half years that I've had this avatar, it has evolved, like a living, breathing creature, taking on new forms as it grows. It has become me, and I have not shown my body or face ever since.
However, despite my looks, I have befriended many people. Perhaps my oldest friend is Jookie, whom I admire and hold dear to me. A new, but equally great, friend is Shanitos, who has given me a great deal of kindness. But to others, my remarks can be quite sharp, usually against idiots, noobs, and those who defy the laws of avatar making, especially ones who are so conceited that they think their awful creations are any good. As such, I despise the Avatar Arena, and love the Avatar Talk forum.
As for the man behind the mask, I love zombies, manga, anime, and video games. I especially like romantic comedy anime/manga, and love fantasy role playing games, such as Guild Wars and Dungeons and Dragons. I also live in Florida.[/size][/color]
Friends
Viewing 12 of 39 friends
Journal
Rantings of a Madman
Stories by the certifiably insane.
Multimedia
Signature

What are you looking at? Give me your panties!
Zombie Status: my arm hurts
Halloween Forever