Jiinxii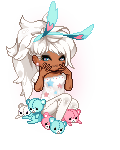 Details
Last Login

07/01/2016 5:20 pm
Location

My Head, pop. 1

Occupation

Smartass

Gender

Female

Birthday

05/11/1989

Website
---
Interests
About


Welcome to my profile! I know many names, though my TRUE name shall remain hidden (save to those I trust). You might see me called Neko, Kinnie, Neko-chan, Kino-chan, Mama Kitty, or even Kitten. Though..my name is just Kino. The others are just pet names, in a sense.



What does Kino like?


Anime, Manga, Games, Nature, Cats, Rhubarb, Random PMs, Random Comments, Art, Water, the color Green,
BRIGHT COLORS!
, Happy People, Friends, Electronics,
FINAL FANTASY!
, Flashy Things, Smiling, Cinnamon Toast Crunch, Funny Icons, Kisses, Hugs, Okra, the color Blue, the color Red, Mangoes,
SCIENCE!
, Strawberries and Whipped Cream, Salmon, etc.



What does Kino Dislike?


Rude People, Idiots, Excessive Use of Car Horns, Sad People, Gym Class, English Class, Calamari, Extremely Spicy Foods, Mean People, Mornings, Wednesdays, Hominy, Asparagus, the color Brown, Any Food w/ Eyes, Starfruit, Liver & Onions, etc.

I am an avid RPer here on Gaia, and spend most of my time in my home thread, the Izanami Nightclub. It's come so far since June. Over 3,700 pages! ♥

Suppose that's the end of the basics on this Kinster(yes, more nicknames). If you'd like to know more about me, take the time to get to know me better. I don't bite unless provoked! Ciao!
Friends
Viewing 12 of 17 friends
Journal
Because I have to keep track of things somehow...
General ramblings, including but not limited to the occasional roleplay-related scrawlings.
Signature
Our survival requires bold, decisive, visionary leadership.

So basically, we're all screwed.