jessieomer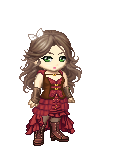 Details
Last Login

12/08/2013 9:02 am

Total Posts

75661

Posts Per Day

24.27

Member Since

05/28/2005
Gender

Female

Birthday

08/15

Website
---
Interests
Favorite Movies/Anime
Favorite TV Shows
About
Thanks my wife, Blood, and friend Ally, and an anonymous person for sending me birthday presents. It made my day!

Thanks Caffeinated McKayla for gifting me a May 2010 letter when I saw her talking about free bunnies. -puts on her bani hat-

Thanks Yvonna Mouse for the Starbabies <3
Hello. Yes I realize I don't put much on here, well mostly because I hardly check my profile. Anywho thanks for stopping by.
December 22/07 - anniversary with Blood Stained H3art
NEWEST ARTIES:

thanks Ally for the christmas gift of the La Syphide item <3
Journal
jessieomer's Journal
Some odds and ends
Multimedia
Signature



Jessie: I think I have a new husband. Thanks for donating a lot of tickets to me Markie.