Welcome
Hi and welcome to my lame-arse profile page. I don't know why I even bothered to write this stuff since no one visits my profile and if they did they probably wouldn't waste their time reading my stuff about people not reading this stuff. Well if someone did actually read this, welcome to my profile and don't touch my stuff
Me made out of pixels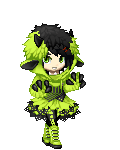 Last Login: 10/01/2013 6:51 pm
Registered: 11/09/2008
Gender: Male
Birthday: 11/02/1993
Occupation: Student
The things virtual me is wearing
Interest Tags
Favorite Movies/Anime
Favorite TV Shows
Favorite Reads
Favorite Music/Bands
Hobbies/Interests
Things people won't buy for me >.
Does anyone read this stuff anyway?
Hi, I'm me, I'm Australian. If you want to know anything about me, PM me.

If anyone is interested in voice acting for a machinima let me know
Friends/possible stalkers
Signature
Is arson still illegal? I don't want to have to change my Christmas plans.