jellybunnies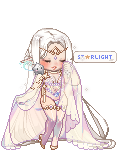 About


i'm kay,
idk what to put here tbh
I'm a twenty-three year old, pansexual, gender-expressive Feminist.
Dating world wise, I'm single.
I am a firm believer of equal rights and you don't earn anything special for thinking so.
I collect dolls, cosplay, enjoy drawing and playing video games.
I REALLY LOVE MAGICAL GIRLS OKAY

I've been on this site since 2003 and even I can't believe it.
Feel free to send me a message and talk to me!



Wish List