Jasmine Myou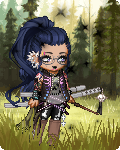 About


Real Name: Jasmine Lee Cora
Age: 23
Ethnicity: Puerto Rican and a quarter Italian

I'm born and raised in the Bronx, New York. I like the simple things in life. I love to write, read, and crochet. I also love my two year old Pit Bull, Apollo. He is my world. I'm a big Harry Potter fan. I love to read the books and to read fanfiction.

I cannot stand Twilight with a passion. Yes I have read the books and seen the movies. No thanks. I also cannot stand people who cannot use proper grammar. Hell, just write normal words. I feel like my IQ is decreasing when people write in so much chat speak that you barely understand what they are trying to say.

I just found out that lml means Love.My.Life. Just say that and stop being lazy. I love to laugh so I what alot of South Park. I love to meet new people so feel free to message me.

I also absolutely love love love anything with bats, skulls, and black cats, and things that are purple. Yes I used to be goth. I am in the process of making something, what I have no clue, with small crocheted skulls. So far I have a pair of earrings and what seems to be a the bare beginnings of a scarf. Seven down, four hundred more to go. You can also find me wearing leopard or cheetah print anything. I even have a cheetah print bed for my dog, I'm so obsessed.

Additional Notes:
Please Do Not message me for donations.
I only give donations to friends.
I don't accept random friend requests.
I don't mind trades.
Friends
Viewing 12 of 12 friends
Signature
Items I Am Questing For To Finish My Avatar:
Demonic Anklets
Onyx Bolster Sword
Alternate Sasha's Skirt
Lumiere Noire Reborn
Spirit Pyre
Metal's Last Hope
Kamila's Vamp Top