About
Update: I have returned from my trip, and now I work! Lets see how things progress shall we?
✪
Deviantart
✪
Tumblr
✪



New Note: I draw for cheap! Please check out my dA below for examples. Sketch doodle 1k, colored/bodyshots 3k. I will draw anything but extreme gore or porn. I love anthro/pony/anime stuff. Thank you.
Hello, I am
Jade the Starwolf
, but please call me
Jade
. I am female, but I've never really felt feminine, (and don't like getting hit on) so my avi is a dude. I'm in love with the most wonderful man in my worlds,
Keiichi 047
. In real life, I'm married to him. My awesome twin sister is
Rinakin
who supports me in her awesome ways dispite being a very busy person and now living 7 timezones away.
I am currently obssessed with
stars
, the color
green
, most songs by
Gumi (the vocaloid)
, and
getting avi/oc art
! I am normally shy, but I'm also obsessed with roleplaying, so sometimes I can get a little hyper. I am 24, and bisexual. I will never cheat on my husband, but I can admire all I want.
I made these icons.
This is my twin sister Rinakin, myself, and my husband Keiichi 047.

Journal
Darkend Heart's Flutters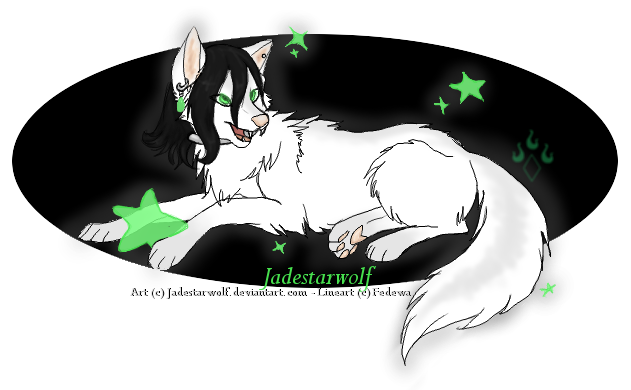 Multimedia